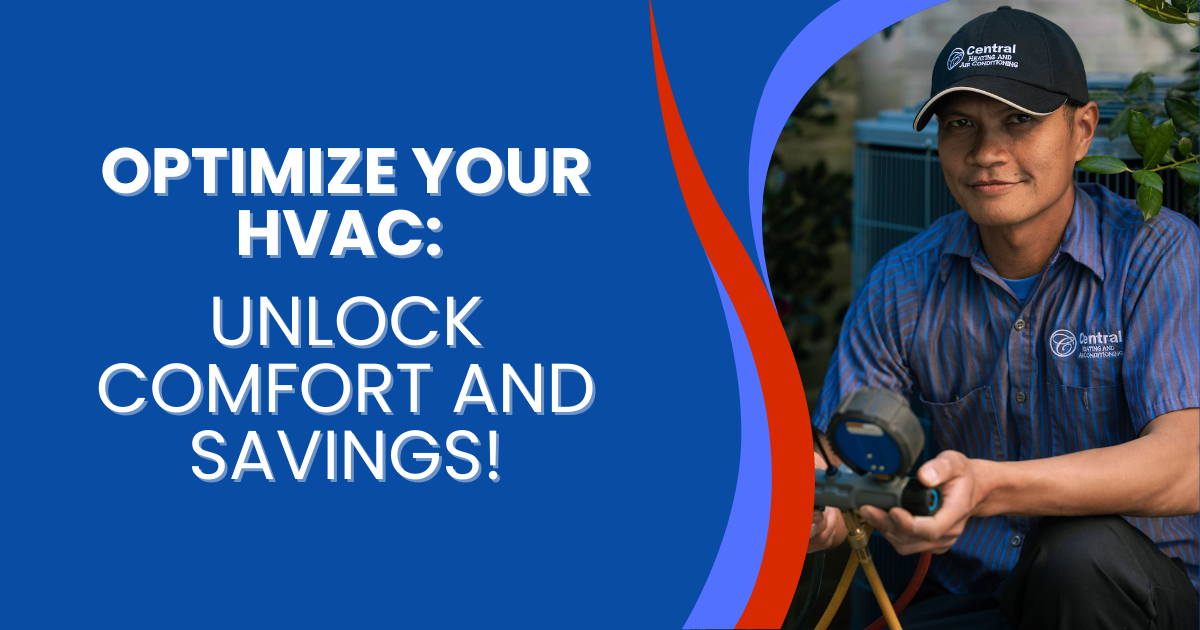 HVAC systems are crucial for maintaining a comfortable and healthy indoor environment, but they can contribute significantly to monthly energy bills. Fortunately, there are several ways to improve their efficiency and reduce power consumption. Let's explore the best strategies for optimizing your HVAC system and saving on energy costs.
Optimize Thermostat Settings:
Ensure your thermostat is set to the "Auto" mode, allowing it to adjust the temperature and fan speed automatically based on weather conditions and indoor needs. Avoid setting extremely low temperatures on hot days, as this forces the HVAC system to work harder and consume more energy.
Clear The Condensate Drain Line:
During high-humidity periods, HVAC systems can accumulate ice that eventually melts and drains through a condensate line. If this drain line becomes clogged, water overflow can hinder the system's efficiency and lead to potential damage. Regularly clear the condensate drain line to maintain optimal HVAC performance and prevent issues that may require HVAC repair in Buford.
Utilize Curtains and Blinds:
Strategically use curtains and blinds to improve HVAC efficiency. When cooling, close blinds or curtains to block heat from entering through windows. Consider uncovering windows where natural light is needed to reduce reliance on artificial lighting. By managing sunlight, you can relieve some of the HVAC system's workload and enhance its efficiency.
Seal Potential Leak Points:
Energy waste due to leaks can significantly impact HVAC efficiency. Check for gaps or cracks in ductwork, doors, and windows. Seal any leaks promptly to prevent conditioned air from escaping and outside air from entering. For complex leaks, consult a professional HVAC company, such as Central Heating and Air Conditioning, serving Norcross and surrounding areas, for effective solutions.
Maintain a Clean Outdoor Unit Area:
The outdoor condenser unit requires proper maintenance to ensure optimal HVAC system operation. Keep the surrounding area free from debris, dirt, and dry leaves. A clean outdoor unit allows for better airflow, preventing strain on the system and reducing power consumption.
Schedule HVAC Preventative Maintenance:
Regular preventative maintenance is essential for maximizing HVAC efficiency. These systems work tirelessly under challenging weather conditions and benefit from periodic maintenance. By scheduling professional maintenance services, you can identify and address potential issues early, improving overall efficiency and preventing costly repairs. If you need HVAC repair services in Duluth, rely on Central Heating and Air Conditioning, a trusted HVAC company serving the area since 1947.
Central Heating and Air Conditioning offers a range of HVAC services, including installation, maintenance, repair, replacement, indoor air quality, and insulation services. Contact us to enhance your indoor comfort and optimize the efficiency of your HVAC system in Norcross, GA, and surrounding regions.
Why Choose Central Heat of GA for Your HVAC Needs?
Smooth Scheduling

When you reach out to us, our friendly and knowledgeable customer service representatives will guide you through the appointment or service scheduling procedure. We prioritize understanding your specific needs and requirements by actively listening to you. If necessary, we will conduct a thorough inspection of your home before preparing and presenting you with a detailed quote. From the initial point of contact to the completion of the service and beyond, we are committed to providing comprehensive support throughout your entire customer experience. We have two hour scheduling windows so our customers do not have to wait around for long periods of time.

Certified & Trained Technicians

Our team of technicians is highly skilled and well-trained to deliver top-notch HVAC repair, maintenance, and installation services. Each technician holds certifications from reputable institutions like North American Technical Excellence and Comfort Institute, demonstrating their expertise and qualifications. With their extensive knowledge, skills, and experience, our technicians guarantee complete customer satisfaction for every HVAC job they undertake. Additionally, we have a dedicated team of HVAC design professionals who specialize in creating custom-designed HVAC systems tailored to meet the specific needs of our customers.

Transparent & Fast Service Delivery

Central Heating and Air Conditioning understands the importance of earning and maintaining our customers' trust. That's why we prioritize transparency in our service delivery policies. We believe in keeping you well-informed about all aspects of your HVAC service requirements, including associated costs, as they arise. Our commitment to fast service delivery is rooted in ensuring customer convenience at every step.

Dependable HVAC Company

As a highly experienced HVAC contractor firm in the State of Georgia, we have been serving the industry for over 75 years. Our license (license # CN-6931) ensures that we meet all the necessary requirements and regulations. We take pride in maintaining a drug-free workplace, which is certified by the State Board of Workers Compensation. Our commitment to excellence is reflected in our A+ rating from the Better Business Bureau. Additionally, we carry comprehensive insurance coverage for both Workers' Compensation and General Liability to provide you with peace of mind.
At any time, HVAC issues can arise, particularly if the system is not adequately maintained. Our team of skilled and certified technicians is committed to promptly addressing your HVAC maintenance and repair requirements with exceptional service and repair work.
If you need HVAC repair service in Duluth, Buford, or Norcross, don't hesitate to reach out to us today! We are eager to assist you in enhancing your indoor air quality and home comfort. Simply give us a call at 404-620-3289 to schedule an appointment.