All you need to know about taking the leap to make your home a smart home!
You've heard the buzz word "smart home" more and more lately but there are few HVAC contractors that are really ahead of the curve and embracing this new and upcoming trend in the housing industry. A smart home can consist of many different elements and provide tremendous peace of mind and safety.
So, what exactly is a smart home?
Smart home is a term referring to homes that have electronic systems installed which allow you to better manage your house via a smart phone or internet browser.
Some features include:
Home automation for regular routine tasks
Visibility ofyour home while you are at work or on vacation
Better management of your HVAC, lighting, and even appliances like refrigerators and stoves
But with so many tech giants in this industry building products and vying to get in your home, which products do you need or want? Which smart home platforms do you consider?
First, let's discuss what the needs and wants for your smart home are:
Think about your daily, weekly, and monthly lifestyle habits. Do you work during the week but have the weekend off? Do you travel for business? Are there are other people that will be impacted by what happens in your home or is it just you? Do you take frequent trips or vacations throughout the year? The more you are away from your home the more functionality you will want to build into the design of your smart home. If you rarely leave town during the weeks and months throughout the year you will need different types of functionality. Some of our clients need the ability for these electronic gadgets to communicate with the fire or police departments while others need access to seeing what's going on while they are away. Before purchasing smart home products, consider your use, needed functionality, and wants.
Products available for your smart home
Wifi thermostats that you can control remotely via a web browser or smartphone app
Security cameras for your home
Door locks for remote entry and access
Sensors for light, temperature, and moisture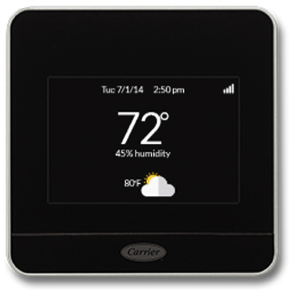 Wifi Thermostats
Some thermostats can auto detect your location via your smart phone app. Other thermostats pride themselves on providing access to vast amounts of usable data for your energy usage so you can change behaviors and patterns over time in order to reduce utility bills. Many thermostats on the market today provide live weather forecasts and updates so your system can be smarter about how much capacity to tell your furnace or air conditioner to use. The back end (furnace and air conditioner) equipment can allow greater functionality or limit functionality depending on the systems unique features. Generally, an older the HVAC system means less functionality. Many manufacturers are working hard to build products that overcome this though so be sure to check that your system can handle a smart thermostat. Call us at Central to learn more about the Carrier Cor Thermostat.
Security cameras
There are many options to consider when choosing what type of security camera you will need for your smart home. Night mode, IR capable, motion sensing, audio capabilities, and hi-definition are just a few features to consider. More advanced products can rotate allowing scanning across a larger area. Some cameras can pick up audio. Most software will allow you to record video with a paid account up to 2 GB or 4 GB. Verify with your manufacturer once you have determined your needs.
Door Locks
These can allow actions such as one hour access codes for service personnel to gain access to your home while you are away. Or to create certain triggers based on other actions in your smart home system. For instance, if your security camera detects motion, you can have your door lock automatically unlock itself. This can be helpful for kids coming home from school, for instance!
One major thing to consider with a smart home door lock system is the manufacturer. There are many products out there that are more focused on features and functionality with other products than actual security. Just because you have a smart door lock doesn't mean it'll keep burglars out.
Sensors
From water sensors to light sensors these are probably the little giants in the smart home arena. They are cheap. And they provide a ton of added functionally for a lot of other products in your smart home platform.
Sensors can also detect motion at certain windows throughout your home. If you are concerned about your crawl space flooding or live in a high water table region, you would want to consider having the ability to remotely detect water levels.
Four things you need to make your home smart
Internet

You will need internet with good range across your home. If your home has brick walls or metal framing this will greatly hinder the access your devices will have. Check range of communication with the devices you are considering purchasing. If your home or property is too big you may need a bridge to extend the range of your Wifi.

Smartphone

Most smart home products can be accessed via a web browser. But chances are you are ready to make the jump into the 21st century if you are making your home smart. Many devices will work on an internet browser but will have limited functionality across smart phones. Double check your compatibility. Some more advanced and vast platforms will require the use of 3rd party software that lives on your computer only.

Plan & Platform

Without a plan you can easily end up with a myriad of products that don't work well with each other; if at all. Make sure you plan out what you need first. Many clients of ours start out thinking just a camera for their front door would be nice but once they can see the potential of a fully connected smart home they can see the need for additional products. If you need a single device, your platform needs will greatly change.

Keep in mind that you don't need to have all of your products to pull the trigger. Just get on a platform that can grow with your needs as you expand your smart home. Some platforms are designed with multiple products and you can pick and choose which products will suit your needs best while other platforms only offer 1 or 2 products leaving you to use different platforms for different things. This can be an issue in managing your smart home because you will have to learn different apps.

Dealer or local contractor

Local contractors can be helpful in determining your needs and choosing a platform to build upon. They can also provide warranties if products break down or need servicing. TIP: If you want to tackle this yourself make sure you have someone lined up who can run power if needed. Some smart home products will use your internet to function but may need power to operate.
Call us at Central Heating and Air Conditioning to learn more about some of the Smart thermostats that we have to offer! 404-261-2280